Curriculum
Mastery Program Format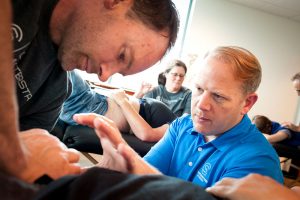 Active participation in this program will help you to overcome the frustrations of treatment plateaus and enable you to engage in the concept of treatment discovery and application. Understanding the underlying treatment concepts instead of simply duplicating what others have figured out is what creates separation between those who are good at Fascial Counterstrain (FCS) and those who are truly great. At the Counterstrain Academy we pride ourselves in putting the student first and by making education and the assimilation of information a priority.
Ideal student-instructor ratio
Suitable for practitioners of all levels of Fascial Counterstrain
Emphasis on the Cranial Scan as developed by Brian Tuckey, PT
Focus on clinical application throughout the program
Audit program: Stay current by re-taking (auditing) any course at half-price
Immersion: Instruction within the Mastery Program provides a long-term, immersive, learning process that is conducive to truly absorbing the material as it reinforces consistent and continuous improvement.
Spaced Repetition: The weekly class format solidifies FCS concepts and treatment methodology in a small group setting of like-minded practitioners that share the common goal of mastery.
Model: This is a rare opportunity to model the strategies of accomplished practitioners/instructors and receive individualized guidance on your path from introduction to mastery.
---
Mastery Program Courses
Counterstrain Academy Course Modules:
Each module offered by the Counterstrain Academy (CSA) is designed to follow the 3-day immersion course taught by the
Jones Institute
. The Modules are also designed to be taken in order. For example, Module 1: is the Intro to Counterstrain and the Cranial Scan and must be taken first. During the registration process for each module, you will be required to upload your completion certificate from the corresponding Jones Institute course listed below.
Requirements & Prerequisites:
  – All students should be a credentialed allied health professional (PT, LMT, etc…)
  – For each Counterstrain Mastery level course, you must have completed the corresponding prerequisite course from the
Jones Institute
.
First time students must register and obtain approval before signing up for a course:
Step 1:
Fill out our one-page form
here (Registration Form)
with your credentials and license information.
Step 2:
After you submit the registration form, a representative from Counterstrain Academy will review your request within 48 business hours. Once you are approved, you will receive an approval email.
Step 3:
Once you receive an approval email, login and upload your prerequisite certificates and sign-up for Counterstrain Academy Mastery Courses (see
course schedule
for current course offerings).
Audit students may re-take any module offered at half-price. Make sure to select the audit links on the course schedule page. Audit students may purchase a new manual for $150 each.
Counterstrain Academy, LLC Harassment Policy
Counterstrain Academy, LLC is committed to providing a safe environment free from discrimination and harassment including sexual harassment. Counterstrain Academy, LLC has a zero tolerance policy when considering any form of harassment, especially sexual harassment and will treat all incidents seriously and promptly. Any person found to have sexually harassed another will be removed from the Counterstrain Academy Mastery Program as well as the Counterstrain Academy Instructor Training Program.  Any student terminated from the Counterstrain Academy Instructor Training Program will forfeit all Academy materials.