address
1975 NW 167th Place #13
Beaverton
,
Oregon
97006

U.S.A.
CS Instructor Status
CSA Instructor

Counterstrain Certifications
CSC I
Introductory Courses
Visceral, Intro, Neural Upper Quadrant, Arterial, Neural Lower Quadrant, Lymphatic/Venous, Musculoskeletal I, Musculoskeletal II, Musculoskeletal III, Central Sensitization I, Endplate Supplemental, Epidural Ligament Supplemental, Central Sensitization II
Counterstrain Mastery Programs
Mod 1 Intro, Mod 2 Visceral, Mod 3 Lymphatic/Venous, Mod 4 Arterial, Mod 5 N1, Mod 6 N2, CS Convention 2018, CSC 2019 Intro, CSC 2019 VC, CSC 2019 LV, CS Convention 2019, Mod 7 MS1 - Part 1, CS Convention 2020, CS Convention 2021
Kim Braun, PT, DPT, CACI, JSCC, CSC I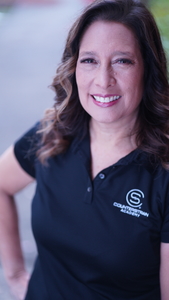 Dr Kim Braun, PT, DPT, CACI, JSCC, CSC I Doctor of Physical Therapy, Counterstrain Academy Instructor, Jones Strain Counterstrain Certified & Lab Instructor, she is the owner of a private practice - St Raphael Holistic Center (offices in Beaverton, OR). Dr Braun uses her vast Physical Therapy & Counterstrain knowledge to take a holistic approach to patient care and gives 110% to helping her clients achieve wellness and health. Dr Braun has been dedicated Counterstrain due to the profound changes she has seen in cases of neck/back pain, acute sports injury recovery, torticollis/plagiocephaly, digestion issues, chronic pain, whiplash, concussions and many other conditions. Dr Braun earned her initial PT degree at the University of Iowa and completed the Doctorate in PT from St Scholastica. Dr Braun has 30+ years of clinical experience and began on her education in Counterstrain in 2003 with the Jones Institute and completed the mastery course with the Counterstrain Academy. Dr Braun is grateful for the opportunity to join ranks with other highly qualified fascial Counterstrainers and is eager to spread the knowledge to other healthcare workers to provide high quality healing and hope throughout the country and world. Dr Braun is also licensed in Washington, California, Utah, Virginia, Iowa, Nebraska, Colorado, Oklahoma, West Virginia, and Virginia and available for persons in those states on a private basis.