Chesterfield
,
Missouri
63017

U.S.A.
CS Instructor Status
N/A

Introductory Courses
Intro, Visceral, Lymphatic/Venous, Arterial, Neural Upper Quadrant, Neural Lower Quadrant, Musculoskeletal I, Musculoskeletal II, CSA Module 1 Intro: Counterstrain and the Cranial Scan, Musculoskeletal III, Central Sensitization I
Counterstrain Mastery Programs
CS Convention 2018, CSC 2019 VC, CS Convention 2019, Intro, Arterial, CS Convention 2020
Laura Mathias, PT, MPT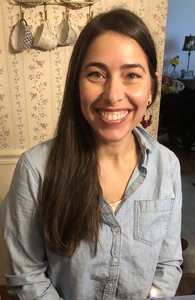 Laura is a seasoned physical therapist who recently relocated to the Saint Louis, MO area from Chicago, IL. She graduated in January 2007 from Saint Louis University with her masters degree in physical therapy, and an undergraduate degree in exercise science in 2004. She has been passionate about Fascial Counterstrain (FCS) since she was a physical therapist intern in 2006, when the physical therapist (PT) she was being mentored by had tried every traditional PT treatment he could think of to help her with her severe and chronic sciatic nerve pain in her leg and hip. No traditional treatments worked for her until he applied Counterstrain to Laura's piriformis muscle. Laura immediately knew she wanted to learn Counterstrain due to the significant and immediate pain relief she experienced. In April 2008, Laura took her first course in Strain/Counterstrain, the original Counterstrain technique developed by Dr. Lawrence Jones, DO, JSCCI. She now uses primarily Fascial Counterstrain in her treatments, which is the more advanced Counterstrain technique developed by Brian Tuckey, PT, OCS, JSCCI. She enjoys educating her patients and incorporates nutrition and holistic wellness to help individuals get back to their best selves. Laura is working towards her holistic health coaching certificate in plant-based wellness. When not working, Laura enjoys argentine tango dancing, spending time with friends and family, volunteering, trying new restaurants and recipes, and traveling in the USA and abroad.